MRG @ Siggraph07
We were selected to present our recent animation ("The History of Species") at Siggraph in San Diego, in August 2007, in the Sketches section.
The film shows the evolution of a protein structure mapped into the FormGrow space traversing 20 nodes in an extrapolated phylogenetic tree covering up to 50 million years per second (back and forth in time, to/from a common ancestor). The film shows a highly original representation of DNA on its journey from the human liver to the eye lens, initially backtracking towards their common ancestor and then moving forward to today's time. The animated form interpolates between each node on the tree. DNA is used both to generate the forms and produce the soundtrack. The work is an extension of Latham and Todd's ideas of the late 1980′s to the early 1990′s, where, this time, FormGrow is connected to modern genomics and proteomics. The film represents an attempt to cross the divide between scientific visualisation of DNA and aesthetically pleasing art.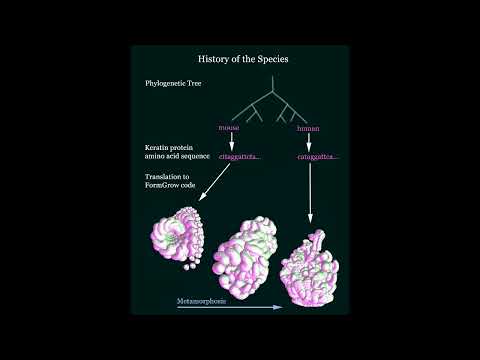 Also available under YouTube.
"At the core of this work is the idea of feeding DNA data sequences into a rich 3D form generator called FormGrow, to generate organic-looking 3D growth structures, creating an equivalence of the DNA mapped into an alternative multi-dimensional space."
The 3D forms for each frame of the animation were produced in part by using computing resources provided by the UK National Grid Service: http://www.grid-support.ac.uk/
We thank the Rutherford Appleton Lab (RAL) for helping us using their supercomputer.
The rendering of each frame was performed using PIXIE, the open source RenderMan, with the guidance of one of its creator, George Harker
http://sourceforge.net/projects/pixie
MRG also presented its latest work on 3D genetic art at the National Institute for Medical Research (NIMR) part of the Medical Research Council (MRC) in Mill Hill, North London, on Thursday November 1st. This was followed by a 6 weeks exhibit of the work at the NIMR. It included the HoS animation.